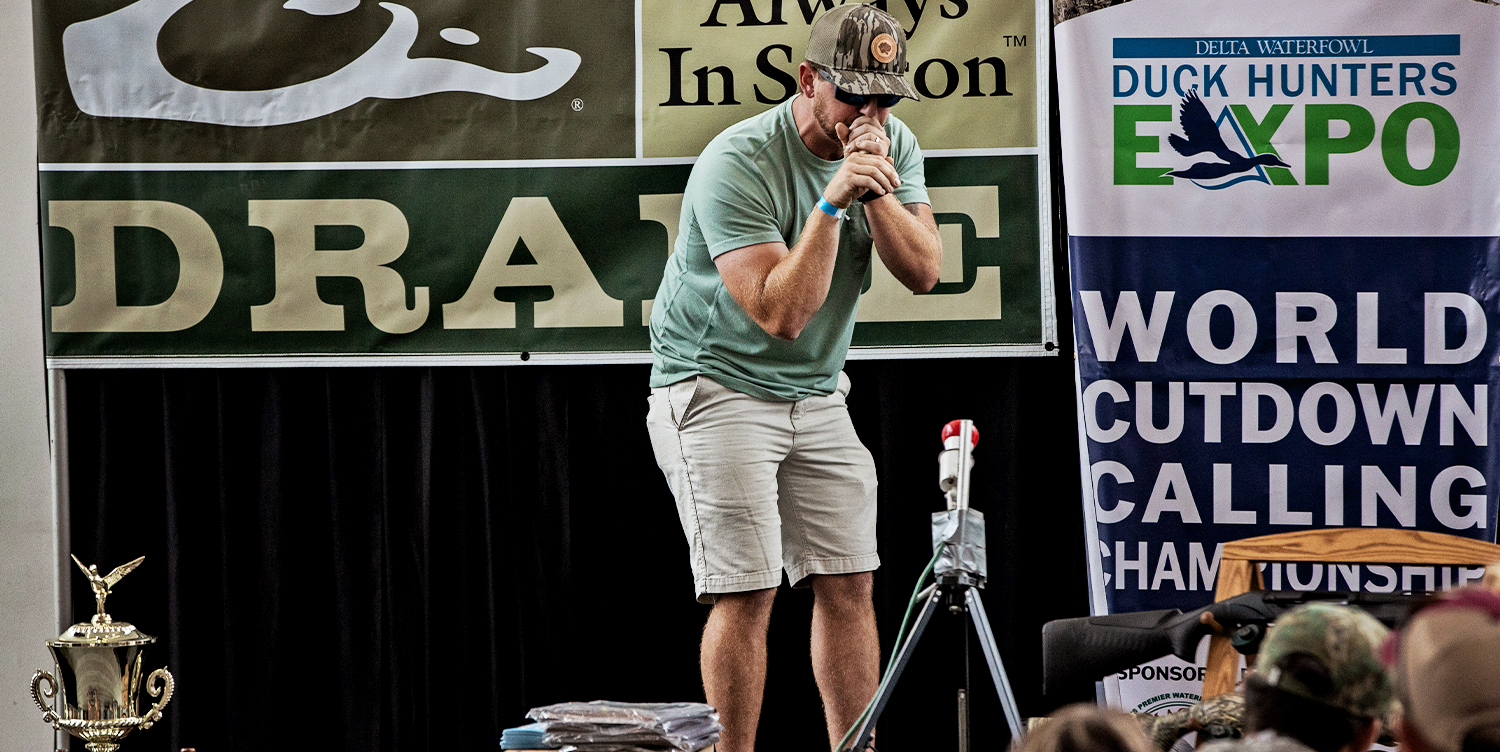 World Cutdown Championship
---
Entry Fee: $50.00
Prizes/Awards to top 5, payout to top 3
100 percent payback to callers
Date: July 29, 2023
Time: 1:00 P.M.
Location: The Duck Hunters Expo
Registration: 9:00 A.M. at Statehouse Convention Center, Little Rock, AR
Registration Closes: 12:45 PM
---
Contest run under sanction rules…
Winner will blow in 3 rounds with the winner having the largest amount of points after completion of the 3rd… 1st is added to 2nd then added to 3rd… Call off or tie breaker rounds will be added as needed and will only require the number of rounds necessary to break the tie.
There will be 5 judges, after each judge turns in his score, the high and low scores will be thrown out and the 3 median scores will be added together for the total.
1st round 70-80
2nd 80-90
3rd 90-100
Call off rounds or tie breakers will be scored 90-100.
Scores will be posted after each caller.
Scoring will be based on the premise of the caller breaking a high bunch of ducks, keeping them working your set, losing them and calling them back, alighting them to the water.
Judges will be instructed to judge on these attributes:
1: Break 'em out High, get 'em working your set: Hard and Loud…
2: Keepin' them tight, don't lose them to the next group: Different duck licks, hard chatter, keep 'em on you. Want to hear some realism here, real feed etc
3: Line em down wind: You've got 'em, now Line 'em up, chatter, easy licks, keep 'em coming show us some bottom… For sure realism here, real feed, easy licks, show some excitement without blowing 'em out. Backing off the call, show some finesse!
4: You had 'em on, they crossed up wind and are leaving, get 'em back! Step it up, get loud and make them listen and get 'em back.
5: Put em in the hole: Light Chatter, Clucking and lonesome hen quacks, let 'em in It's a done deal!
We want to hear some range so the call should be able to be loud to soft, clean and rattle and we do not want to hear the same stuff over and over, show us what you and the call can do… Paint the judges a picture… A caller cannot switch calls during their routine. This is ground for disqualification…
Callers will have a total of 90 seconds (1 minute, 30 Seconds) to present their routine with a red light coming on at 80 seconds reminding the caller of having 10 seconds to finish. Preceding each routine, the emcee will ask the caller if he would like a warm up and announce that to the judges… Upon completion of the warm-up and signaling the emcee, the emcee will announce "For Real" or "Competition" to alert the timekeeper and judges that this is for score. At no time is the caller allowed to speak, the caller should communicate by nodding or shaking his head… Speaking is also grounds for disqualification…
A caller who can show the ability to break ducks high, keep them working tight over a set, call them back if lost and finish them to the water is considered to be in high regard and a well seasoned caller.
The premise of this contest is to bring about awareness and educate future generations of the sounds and attributes of the modified or cut down Olt call. Of which many consider to be one of the most effective tools used in calling groups of ducks into most notably the large tracts of both public and private Woods, Cypress Brakes, River lakes and Flooded fields within the lower and mid Mississippi Flyway but not to exclude anywhere the distinctive rattle of the D2 Olt could be heard.
The Olt Regular Duck Call otherwise known as the D2, was designed in the early 1900's by Phillip Sanford Olt… Due to their early distribution and availability, they quickly gained in popularity. Not much different than today with hunters always looking for an edge; savvy callers of the past learned that by modifying the toneboards and re-tuning the venerable D2 it changed the tonal quality and available volume of these calls. So with that, individual styles, techniques and sounds began to form, however they all maintained the unique and distinctive rattle of a modified Olt which proved to be very effective in most hunting situations especially in flooded woods, Cypress brakes and River Lakes up and down the flyway.
Although duck calls have evolved in the last 100 plus years since Phillip Olt first designed the D2 duck call, many traditionalist believe that nothing can replicate the sound of a modified Olt in the hands of an old school timber hunter. Which again is the purpose of this event, to honor a style of calling and type of call that has become synonymous with southern duckhunting.
For the reasons of staying true to the above-mentioned history along with the spirit of this event, callers must use a call that is a derivative of/or an original or modified D2 Olt. Each callers call will be inspected when they register for the contest. Callers will not be able to switch calls during their routine.
The definition parameters we will use for this event we will be the three Olt D2 Regular Duck Call designs:
The Original round hole, 1904-39…
The Keyhole 1939-2002…
New style with a narrow cork slot and round bore 1954-2002…
The main attributes of the D2 Olt style call are the short bore, long toneboard design with a single reed.